Looking for the latest news on the PS5 controller? Then look no further. Sony has officially announced that the next-generation PlayStation 5 will land at the end of 2020 – along with a brand new PS5 controller to complement it.
Having waited aeons for more official news on the PS5, Sony finally hosted a live stream event on March 18, which was available to watch on the PlayStation Blog – Sony's go-to spot for game announcements and stories about PlayStation-related news.
Unfortunately we're still waiting for an official reveal date for the next-gen Sony console – along with the first glimpse of the console's new controller, which is likely to be called the DualShock 5.
Although we don't know what its official name will be (or what it will look like), we do know that the PS5 controller will have a big focus on player immersion and feedback. This means shaking up the typical PlayStation controller formula with new features, and even doing away with the DualShock 4's classic rumble technology.  
Despite adding some great new features, it looks like – when it comes to design – the PS5 controller may stay true to the DualShock 4, with some minor aesthetic adjustments. Here's what we're expecting to see when Sony finally lifts the lid on their new controller:
Cut to the chase
What is it? Sony's next-generation PlayStation 5 controller
When is it available? Late 2020 (to coincide with the release of the PS5)
How much will it cost? TBC
PS5 controller release date
The Sony PS5 controller will release alongside the PlayStation 5 during the "Holiday" 2020 period – so sometime between October and December. 
We're expecting that the PS5 controller, like the DualShock 4 before it, will work not only on the PlayStation 5 but also with PC.
PS5 controller price
A price for the PS5 controller has not been confirmed yet, but with the PS4 controller retailing for around £40/$50/AUD$80, we expect the new controller to be just a bit more expensive – maybe around £60/$70/AUD$120. 
This is pure speculation at this point, based solely on the confirmed features and Sony's previous price strategy for controllers. We're hoping Sony will confirm the PS5 controller price in the coming months.
PS5 controller confirmed features
We've already been told that the PS5 controller will include haptic feedback to replace the DualShock 4's rumble technology. 
While the rumble technology seen in the PS4 controller vibrates intensely during particular in-game events, it wasn't particularly fine-tuned to the player's experience. Haptic feedback simulates touch, meaning the controller will output vibrations or movements to replicate a real-life touch experience. This aims to improve the controller's feedback and therefore player's immersion. 
The PS5 controller will also feature adaptive triggers which Sony says have "been incorporated into the trigger buttons (L2/R2)". These adaptive triggers will allow developers to program the resistance of the triggers to simulate actions more accurately.
In an interview with Business Insider Japan (translated by Gematsu), SIE CEO Jim Ryan said:
"3D audio and the haptic feedback support of the controller are also things that, when you try them, you will be surprised at how big a change they are. Even just playing the racing game Gran Turismo Sport with a PlayStation 5 controller is a completely different experience. While it runs well with the previous controller, there is no going back after you experience the detailed road surface via haptic control and play using the adaptive triggers."
PS5 controller news and rumors
Wireless charging?
A new patent suggests that wireless charging could be in the works for the DualShock 5. Found by Saqib Mansoor of SegmentNext, the patent shows a "Wireless charging adapter with game control keys for computer game controller," and seems to show a "wireless charging adapter that can snap onto a computer game controller and can be inductively coupled to a charging base to wirelessly recharge a battery in the controller."
The images that appear alongside the patent show what appears to be a DualShock controller with an attachment on its back that keeps the controller charged along with a charging mat, no annoying cables involved. 
Patents, however, as we all know, are no guarantee. Just because a patent has been published doesn't mean that Sony has any intention of pursuing the technology so this should be taken with a pinch of salt. 
It is interesting, however, that this technology appears to be an optional extra rather than included as standard—it suggests that if Sony did opt for wireless charging capabilities it could make them available separately and maybe even later than the console's launch. Keeping this capability separate would also likely keep the price of the base controller lower for those not all that interested in wireless charging. There's precedent for controller accessories, too, given the DualShock 4's recent back button attachment. 
Heart rate and sweat sensors
The PS5 controller could tailor your gameplay based on your vital signs. That's according to a Sony patent (via Respawn First) which outlines a gamepad able to use biometric feedback to monitor players' heart rate and sweat levels, and then adjust gameplay based on its findings.
The patent's abstract describes a "biofeedback sensor attachment for a controller", that is made up of "one or more sensors" which gather types of biofeedback from players, such as heart rate and sweat secretion levels, with certain measurements potentially indicative of a player's emotional state. 
The information gathered would then aim to feedback the player's likely emotional state to the controller, and influence gameplay accordingly – although exactly how this would work hasn't been detailed.
Voice control
An unearthed Sony patent (published by WIPO and spotted by SegmentNext) describes "a controller device that is held by a user's hand, including a microphone, a tactile presentation device that presents a tactile sense to the user's hand, and a speaker.
"While the user is inputting voice from the microphone, the sound of the speaker is suppressed, and tactile presentation control by the tactile presentation device is performed."
What this means is we might be getting a controller that can accept voice commands through its built-in microphone, much like smart speakers such as Amazon' Echo range. Of course, this is just a patent which means these voice-controllable features may never actually come to the PS5 controller, but given how important voice tech is these days, it's one of the rumors we'd be willing to bet the most money on.
Backwards compatibility leak?
There have been a few rumors of backwards compatibility with regards to the DualShock 5 and although we don't have any confirmation as yet there may have been a leak.
First spotted by GamesRadar, a model comparison page listed by PlayStation France for the Sony PS4 and PS4 Pro appeared to list both consoles as being compatible with the DualShock 4 and DualShock 5 controllers, or "DS4 / DS5". A screenshot of the listing was captured and uploaded to Resetera.
It's possible that this was just a typo as the same information didn't appear on the UK version of the page. However, PlayStation has been quite vocal about embracing backwards compatibility for this generation, and they recently revealed that the PS5 will support "almost all" of the 100 most popular PS4 titles at launch. We won't know for sure, though, whether the DualShock4 will work on PS5. 
Is this the PS5 controller? We don't think so
We've seen a few leaked images of the PS5 dev kit so far, but the latest comes from a cleaner who posted images of the PS5 and a controller sitting at someone's desk (via GamesRadar).  
Despite the cleaner asking people not to share the images, they obviously made their way to Reddit where posters began speculating, not only about the kit itself, but about the controller attached and whether it could be the PS5 controller. We don't think it is the controller, though, and here's why.
The leaked images are very similar to those that we've seen before. The dev kit looks the same, a bulky V-shape with a disc drive in the front and a small screen. What we already know about the PS5 dev kits is that the final model is very unlikely to look like that. As the leaker pointed out in these photos, this is prototype 1. So the final model will look different to that, just in case you worried that thing would end up underneath your TV. 
PS5 Devkit Cleaning from r/PS5
What's potentially more interesting is that these images give us a much closer look at the controller attached – which some are speculating to be the PS5 controller. But there are plenty of signs that this isn't the case.
For one, the controller looks exactly like the current Sony DualShock 4 controller (minus the branding). Now, based on leaked patents, we think the PS5 controller will look very similar to the DualShock 4. However, if these leaked patents are to be believed, there's a lot of key details missing from the controller hooked up to this dev kit.
The PS5 controller is expected to have a chunkier design, larger touchpad, back buttons, a built-in microphone and smaller sticks. This controller doesn't have that. The PS5 controller is also meant to lack the lightbar, but we can't exactly see if that's the case here. 
Back buttons
A patent spotted by LetsGoDigital shows a DualShock controller with four new buttons around the back of the device – possibly to act as back buttons to match the capabilities of Xbox One gamepads.
The design shows two larger buttons that can be moved up and down, and two smaller buttons that can be pressed (and that can detect the pressure of a press). There seems to be some scope for adjusting the positioning of the buttons to suit the size of your hands.
As for how these buttons are going to be used, the patent doesn't go into too much detail: except to say that they'll be used to control video game characters, so no surprises there. 
This is a patent focused on utility rather than design, so the finished product might not look like the drawing above. Also, as with every patent, the fact that it's filed doesn't necessarily mean Sony will go through with it.
What makes us think that these could be back buttons is that the sketches look similar to Sony's recently released Back Button Attachment for existing DualShock 4 controllers. Perhaps the DualShock 5 won't need any attachment.
Leaked images
We may have got our first look at the upcoming PS5 controller, thanks to yet another leaked Sony patent.
Published by the Japanese patent office (via VGC), the Sony Interactive Entertainment patent lays out designs for a new controller that looks very similar to the DualShock 4.
Compared the the DualShock 4, the new controller design has some key differences. For a start, the potential PS5 controller seems to have a slightly chunkier design, built-in microphone, larger triggers, no light bar and smaller sticks. It also seems the DualShock 4's micro USB port has been replaced by a smaller USB-C port, which is placed on the top rather than the bottom of the controller.
The lack of light bar does make us question how the PS5 would track the controller via when it comes to PSVR and PS Camera games. Usually this is done via the PS Camera, so we're hoping the console will have a different means of tracking the controller otherwise compatibility will suffer. Unless, of course, Sony is gearing up to move solely onto PSVR 2. However, this doesn't seem likely as Sony has promised the PS5 will be backwards compatible with PSVR.
It also looks like the stereo headset jack and extension port at the bottom of the headset has been replaced by two larger circular ports. We think these will still be for plugging in headsets, but the two jacks could be headphone and microphone slots respectively, to increase compatibility with headsets. There's also a rectangular design that seems to wrap around the headset, which is potentially for compatibility with a charging dock. Again, this is all speculation on our part. 
Check it out below: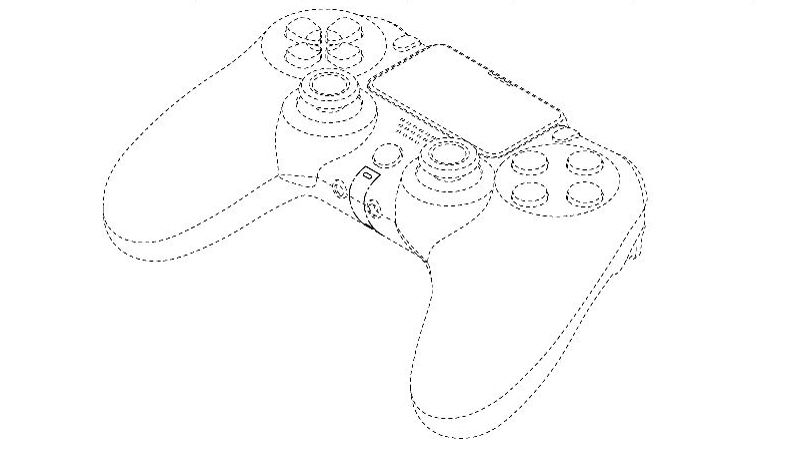 The design we've seen lines up with nearly everything we know about the PS5 controller so far. We already know the controller will include haptic feedback to replace the DualShock 4's rumble technology.
Cloud gaming controller
According to a patent published by the World Intellectual Property Organization in September 2019, Sony is developing a "controller device for user interactivity with a server of a cloud gaming system" (via Techtastic). 
In other words, a cloud gaming controller that works like a normal gamepad but has the benefit of connecting directly to WiFi – improving input efficiency and potentially unlocking next-level functions.
"The controller device communicates directly to an access device for connection to a network that connects the controller device to the server without connecting to a client device", the patent states. "Wherein the server receives and processes the inputs to render gameplay video that is transmitted over the network for rendering to a display device that is local to the controller device."
While it's possible this technology may be being developed for the PS5, and could be key in the PS5 controller, it's more likely we'll see it used for Sony's game streaming subscription service PlayStation Now.
Last year, Sony slashed the subscription price for PS Now to take on Xbox Games Pass, but it could be this is actually part of a longer term plan to improve and invest in PS Now so it's in the position next-generation to take on upcoming game streaming services such as Google Stadia. 
Sony confirm PS5 controller
The PS5 will come with its own controller, according to Sony.The PS5 controller (we don't know the official name yet) will include haptic feedback (to replace the DualShock 4's rumble technology) and adaptive triggers.
PS5 release date
Sony has officially confirmed the PS5 will release "Holiday 2020", aka between October and December 2020.